What I am about to discuss is an extremely important concept, one that I am not quite sure most people consider when making decisions about the foods they purchase and consume. This post is largely inspired by a recurring experience I have involving different people and places, but always with the same general discourse and outcome. Here is an example of a recent instance:
[At a friend's graduation party]
Woman: (to me) "Would you like a piece of cake?"
Me: (eying the clearly store-bought label/plastic packaging) "No, I am alright, but thank you."
Woman: "Oh come on, a little fat/sugar won't kill you!"
...
As if the reason I didn't want to eat the cake was because I was worried about the "fat" or "sugar".
Let's consider for a moment the notion of cake. What things come to mind when you think of cake? Eggs? Milk? Flour? Perhaps some sugar, and some oil or butter? Here is a recipe for old-fashioned yellow cake, complements of the
Old Recipe Book
:
Easy Yellow Cake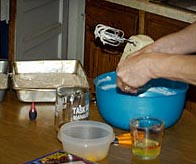 2 eggs beaten
1/8 tsp salt
1 cup sugar
1 tsp vanilla
1 cup flour
1 1/2 tsp baking powder
1/2 cup hot water
1 Tblsp butter
Beat eggs 5 minutes, adding salt, beat in sugar and vanilla, Sift flour and baking powder together, and add. Melt butter in hot water and add. Use an angel food cake tin. Bake at 350 till done.
Recipe from a 1953 cookbook
Seems
somewhat
harmless right? I mean sugar and flour are not the most optimal foods, but at least they are "real", and besides, this is the way people have made cake for hundreds of years, right? Now, I work at a large national-chain grocery store, and was able to obtain a label with an ingredient list for one of the standard cakes sold to at least dozens of people per day, "fresh" from the bakery. Brace yourself:
Sheet Cake W/ Buttercream Frosting
Ingredients:
CAKE:
SUGAR, ENRICHED WHEAT FLOUR BLEACHED (FLOUR FERROUS SULFATE, NIACIN, THIAMINE MONONITRATE, RIBOFLAVIN, FOLIC ACID), PARTIALLY HYDROGENATED VEGETABLE SHORTENING (SOYBEAN AND/OR COTTONSEED OIL), PROPYLENE GLYCOL MONOESTERS, MONO & DIGLYCERIDES, LECITHIN, BHT & CITRIC ACID ADDED AS PRESERVATIVES), EGG WHITES, NONFAT MILK, DEXTROSE, MODIFIED FOOD STARCH, SALT, SODIUM BICARBONATE, ACIDIC SODIUM ALUMINUM PHOSPHATE, SODIUM STEAROYL LACTATE, EGG YOLKS, TETRASODIUM PYROPHOSPHATE, CELLULOSE, ARTIFICIAL FLAVORING, POLYSORBATE 60, XANTHAN GUM, SODIUM ACID PYROPHOSPHATE, EMULSIFIER (PROPYLENE GLYCOL, MONO & DIESTERS, MONO & DIGLYCERIDES, BHT ADDED AS PRESERVATIVES), POTASSIUM SORBATE, DICALCIUM PHOSPHATE, GUAR GUM, MALTOL, LACTYLIC OLEATE, ENZYMES, ASCORBIC ACID, MIXED TOCOPHEROLS (ANTIOXIDANTS)
FROSTING:
SUGAR,VEGETABLE SHORTENING (PARTIALLY HYDROGENATED SOYBEAN & COTTONSEED OILS), MONO & DIGLYCERIDES, POLYSORBATE 60, WATER, CORN SYRUP, CONTAINS 2% OR LESS OF MALTODEXTRIN, TITANIUM DIOXIDE (FOR COLOR), MODIFIED FOOD STARCH, NATURAL & ARTIFICIAL FLAVOR, SALT, POTASSIUM SORBATE (PRESERVATIVE), PHOSPHORIC ACID, GUAR GUM.
MAY CONTAIN:
COCOA (PROCESSED WITH ALKALI), CARAMEL COLOR, ARTIFICIAL COLOR (FD&C RED #40) WATER, FRUCTOSE, POPPY SEED, EGG WHITE SOLIDS, SODIUM CASEINATE, HYDRATED SORBITAN WITH MONOSTEARATE, CORNSTARCH, CARROTS, SOYBEAN OIL, PINEAPPLE, RAISINS, LEAVENING (BAKING SODA), SODIUM ACID PYROPHOSPHATE, MONOCALCIUM PHOSPHATE, NATURAL FLAVORS, WHEAT STARCH, MOLASSES, SPICE, CALCIUM STEARATE, SOY FLOUR, SOY LECITHIN, BETA CAROTENE AS COLOR, WHOLE EGGS, PROPYLENE GLYCOL, HIGH FRUCTOSE CORN SYRUP, GLYCERINE, SILICA GEL, HYDRATED SILICA, CITRIC ACID, SODIUM BENZOATE (A PRESERVATIVE), SODIUM BICARBONATE, TITANIUM DIOXIDE, FD&C RED #3 & #40, BLUE #1-133 & #1, YELLOW #5 & #5-E102,YELLOW #6 & #6-E110, AEROSIL, STARCH, METHYLCELLULOSE, SUGAR, CORN STARCH, VEGETABLE GUM, 1/10 OF 1% SODIUM BENZOATE & POTASSIUM SORBATE (AS PRESERVATIVES), GUMS, SORBITOL, VEGETABLE GUMS, SALT, GUM ARABIC.
Good Lord. Sounds less like a cake recipe than a shopping list for the local High School chemistry department! First, let me address the partially hydrogenated vegetable oils that are clearly a main ingredient (ingredients are always listed in descending order of quantity). Partially hydrogenated vegetable oil, AKA pure trans-fat- I mean
come on
, we KNOW how toxic this stuff is to the human body! How can anyone still be ethically using it in our food supply?! How can it even still be legal to do so?! By now that should be more than enough of a red flag screaming
stay away!
And what about all those other listed ingredients- so many things in there are less likely to be processed via digestion, but rather ushered to the liver for immediate detoxification and expulsion from the body! Once you exit the world of real foods and enter the realm of chemical additives, preservatives, stabilizers, conditioners, and artificial this and that, you really start begging questions of the "foods" we choose to put into our bodies and their implications in health and disease. Such substances truly rebuke the notion of "everything in moderation". These are toxic ingredients which should be absolutely avoided like the plague.
Herein lies the point to this whole post; Cake is not always cake!! This is the case for everything in our food supply in this day and age; very little food
isn't
processed to some degree, and as clearly shown above, more often than not it is processed to a
very
large
degree. And calling a food one thing or another doesn't always mean that they will be the same thing. You must always be reading ingredient lists, and constantly questioning the sources of your food, and the quality and characteristics of the ingredients that go into them. This is the mentality I maintain *
at all times* because it applies to EVERYTHING.
The oft-repeated concept of eat whole foods, and nothing but whole foods is always your safest bet.
So next time you are at a birthday party and someone offers you a piece of cake, unless you can actually see the dirty stand-mixer or the cake pans soaking in the sink, you should seriously consider if you want to be putting all that stuff into your body.
Stay tuned for Part 2 of this article, as I further explore this concept.